Korg G1 Air with Bluetooth and USB
$2,599.00
At the heart of the KORG G1 are 3 world-famous concert pianos, each with its own unique character. No one manufacturer can make a piano that meets the needs of every pianist, and so KORG has selected three renowned instruments from manufacturers in Germany, Austria and Japan. You can now experience the sound of three completely different grand pianos in your own home and select the one that you prefer for a particular piece of music.
http://www.korg.com/us/products/digitalpianos/g1_air/
Finance Options for: Korg G1 – Price $2799
$24.71 weekly over 36 months
$33.74 weekly over 24 months
$61.18 weekly over 12 months
Out of stock
Email to a friend
Description
With unparalleled sound and a beautifully expressive playing experience, the G1 sets a new standard for the digital piano.
The breathtakingly detailed sound and dynamic feel of the G1 provides the pianist with every possible shade of musical expression. Based on decades of ground breaking piano sound technology from KORG, makers of the award-winning KRONOS, and a precisely engineered keyboard that responds perfectly from gentle pianissimo to powerful fortissimo, KORG have created a unique digital piano. The technology of the G1 is so advanced you can even see it; the beautifully crafted slim-line cabinet of the G1 is a result of KORG's unique history of musical instrument design and audio technology. Finally, there is no compromise between superb sound and impeccable design. Creating an immersive sound experience from a digital piano as compact and stylish as the G1 is a truly remarkable achievement. When you see it, touch it, and hear it, the KORG G1 will change your perception of digital pianos forever.
The German Piano
Probably the most famous piano in the world and the choice of numerous pianists and concert venues for many years. Characterized by brilliant highs and rounded bass, the German piano is one of richness and power.
The Austrian Piano
An instrument with a rich heritage, the Austrian piano offers a warm but brilliantly colorful sound.
The Japanese Piano
The Japanese piano is characterized by its dynamic sound and is frequently used for a wide range of music genres, from classical to jazz and pop.
Two-track song recorder to instantly record your performance
Two-track digital recording is instantly available to help you analyze or archive your performances. You can record each hand separately or record an additional track onto a previously-recorded song. Playback tempo can be adjusted and up to 99 user songs can be saved in the instrument.
New speaker system delivers high output and great sounding like a grand piano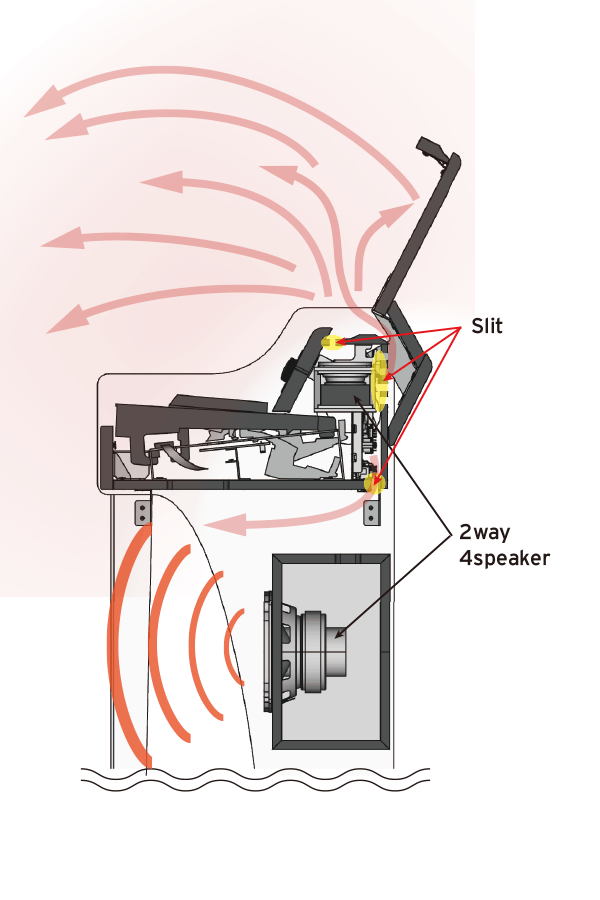 A custom-designed speaker system recreates the incredibly realistic sound field of the G1 acoustic pianos and other instrument voices. With two large-diameter speakers placed below the keyboard in a resonant enclosure, the full dynamic range of sound is conveyed directly to the player, while high-frequency tones are presented by a pair of speakers mounted above the keyboard. In conjunction with resonances from the cabinet, these provide a rich piano tone, reflecting off the key cover and delivering indirect acoustics similar to those of a traditional instrument.
The amplifier section provides 20W of output power for each of the four speakers, delivering up to 80W of sound of the highest quality. From rich bass to brilliant highs, you will experience the nuanced, expressive power of the grand piano in your own home.
Dimensions (W x D x H) 1,346 mm x 384 mm x 822 mm

                                    1,346 mm x 384 mm x 985 mm (with key cover opened)
Weight: 41 kg (including stand)
Included Items: AC adapter, dedicated stand
Returns and Exchanges
There are a few important things to keep in mind when returning a product you purchased.You can return unwanted items by post within 7 working days of receipt of your goods.
You have 14 calendar days to return an item from the date you received it. 
Only items that have been purchased directly from Us.
Please ensure that the item you are returning is repackaged with all elements.
Ship your item back to Us
Firstly Print and return this Returns Form to:
163 Devon St E, New Plymouth 4310
Please remember to ensure that the item you are returning is repackaged with all elements.

For more information, view our full Returns and Exchanges information.